All you Vintage Dames out there know what a poodle skirt is - we've all seen them (usually made from some sort of polyester monstrosity) in costume shops. But where did they come from? Did they just pop out of thin air? Oh, but of course they didn't!
rather fabulous, rather luxury, poodle skirt
During WWII, fashion was somewhat stunted due to economic change. It was seen as ghastly and frivolous to fritter away hard-earned money on adventurous fashion choices. It was a serious and somber time, when women's husbands were fighting for their country and wives were left supporting the household, with many even joining the workforce for the first time.
Many costume jewelry designers and bag manufacturers also ceased or slowed down production, or changed their product styles, since the use of metal was restricted during the war.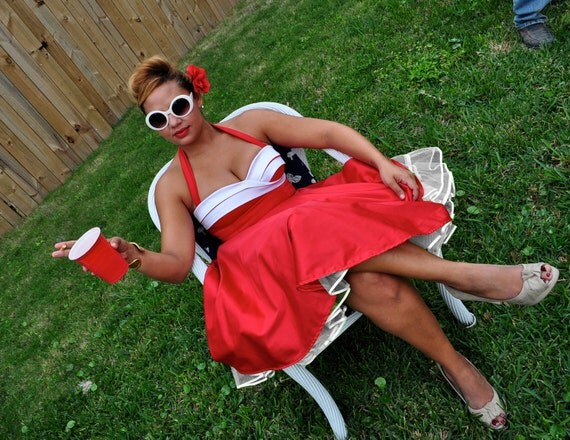 a cigarette, a drink and a bright red 50's inspired
dress
? how wonderfully frivolous!
Once the war was over, society and fashion moved towards celebration! Youth style was coming into it's own and with Dior's creation of the New Look, the female silhouette underwent a drastic and exciting change. Previously, young girls wore 'junior' styles - mini versions of the conservative outfits their mothers wore. Music was changing too and that lively stuff known as rock n' roll created a craze among teenagers and twenty-somethings of the day.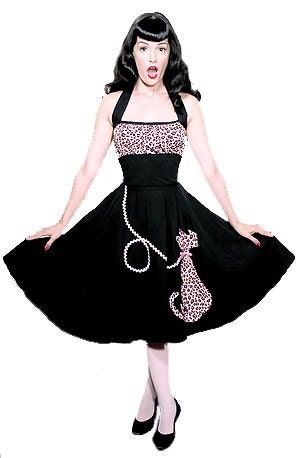 now that's what we call rock n' roll,
pussycat
!
The 50s were a decade of glamour and luxury. Designers were starting to make trips to Paris and French style was coveted; especially with the popularity of Dior. To promote her movie 'April in Paris', Doris Day was pictured on the front cover of Collier's magazine, with 6 vividly colored French Poodles. Poodle mania had begun!
Doris Day and her technicolor poodles - Collier's Magazine, August 9 1952
During the war, using excess fabric was frowned upon. This changed during the luxurious 50's and so, skirts were made from huge circular cuts of fabric; usually thick fabric such as felt. The shape was actually first designed by Juli Lynne Charlot (read a great interview with her
here
).
Because of the simple shape, it was also easy to make at home, during a time when sewing patterns were extremely popular and made it easy for everyone to follow fashion. This became the base shape for the now-iconic poodle skirt.
Though the poodle was the most popular embellishment, other shapes, such as flowers and cars, were often sewn onto the hem of the skirt. Powder pink was the most popular color - in fact, pink became a craze of its own during the 50's, with homewares, kitchen utensils and even full bathroom suites created in the color.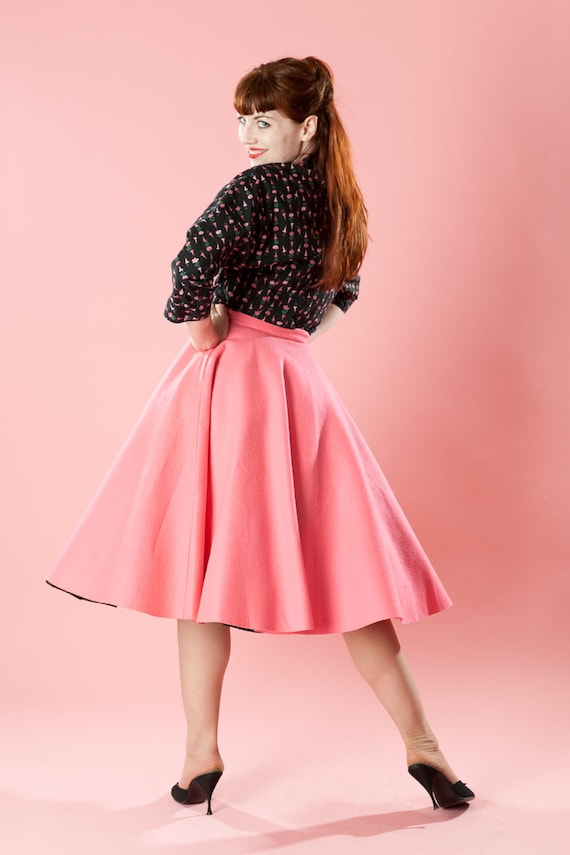 rock n' roll couldn't be more
feminine
than this!
Finally, we can't forget the party feet! Dancing was a huge part of the 50's rock n' roll movement. This meant flat shoes. Feminine shapes were contrasted with the extremely popular Saddle Shoe - similar in style to bowling shoes. They were a sign of youth rebellion - masculine footwear worn with a feminine outfit - after a period of such conservative fashion.
delicate, aren't
they
? perhaps not. but they
are
superb!
So that's it - the iconic style of the girls of 50's rock n' roll covered. Only two more days of these week's
theme
left... keep your eyes peeled and let us know if there's anything you'd love to see us write about!